Studio Work / 2016
Prof. Michelle Chang
Awarded M.N. Davidson Fellowship
The project exploits a perspectival projection. There are points of projection, regular cubes, and a series of planar plates, resulting in a few spatial conditions. First is an eccentric pyramidal core that embodies public and private circulations and transitional spaces like the teller. The second is a series of ruptures working centrifugally from the core to create interstitial spaces, allowing spatial separation and visual porosity both vertically and horizontally.
Model photo
Site Analysis
Entrance
Visitors first approach the project through a gentle slope down into the main public staircase, exposed to the gridded ground and neutral field of façade that blends into the surrounding site. From the stairs, they start seeing the geometry of ruptured plates.
Ground Floor Plan
Facade
The eccentric core embodies both public and private circulations - the public aligns with projections that result in an oblique geometry. In contrast, the private staircase wraps around the core with an orthogonal geometry. In such discrepancy, they are physically separated while in constant visual interaction.
Circulation
Plans
Finally, the circulation creates a direct connection between the exterior public park to the waiting area and the waiting area to the open-air court to challenge the programmatic possibilities of a community bank - its public-ness. Moreover, the private circulation directly connects the shipping to the teller and the office.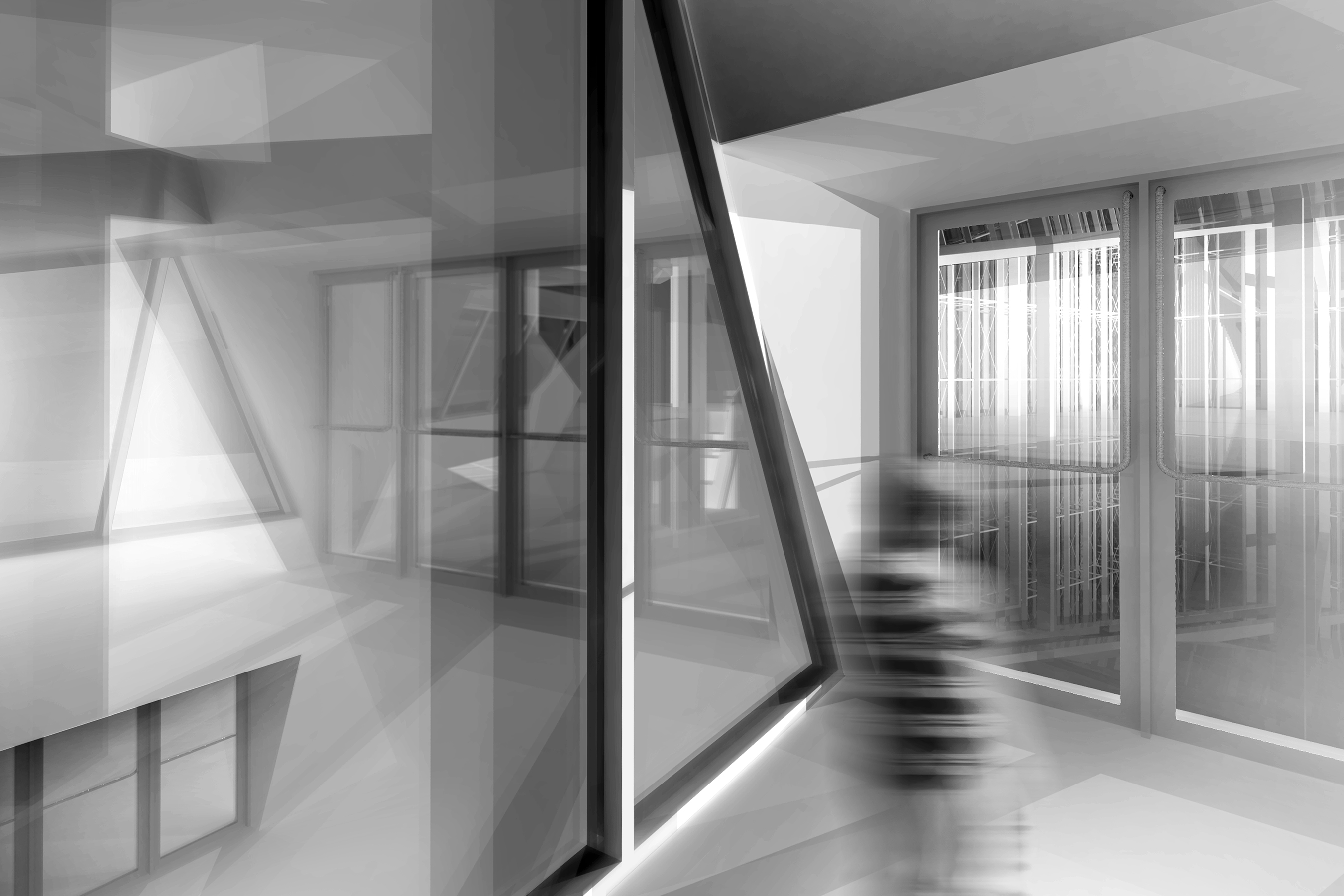 Lobby
Short Section 1
Short Section 2
Vault is probably the most exceptional space in the building to meet the programmatic requirement and maintain a level of security. The vault is bounded by two ruptures coming from two opposite directions.
Model Photo
Long Section 1
Long Section 2
Once episodic yet coherent, the totality of space is achieved through projections resulting in ruptures and experiences connecting physically separated rooms through visual porosity. And, the wholeness of an object that allows such phenomena is never fully realized; nonetheless, it will enable different perceptual possibilities with an emphasis on perception and experience.
In-Between