Studio Work / 2017
Collab. w/ Michael Awalt
Prof. William Cannady and Doug Oliver
Awarded Texas Society of Architects Studio Award

A tower is an urbanistic object. It is simultaneously privileged with autonomy and burdened with dependence upon its content. By considering the tower as an urbanistic object, the tower can be considered as a porous object, continually engaged by its surrounding to spur more participatory public through the process of discovery, and frankly, fun.
West Facade
Form
In its current and continued state, the New York tower is a distinct trifle of pedestal, middle, and top, none of which are perceived in the same location at once.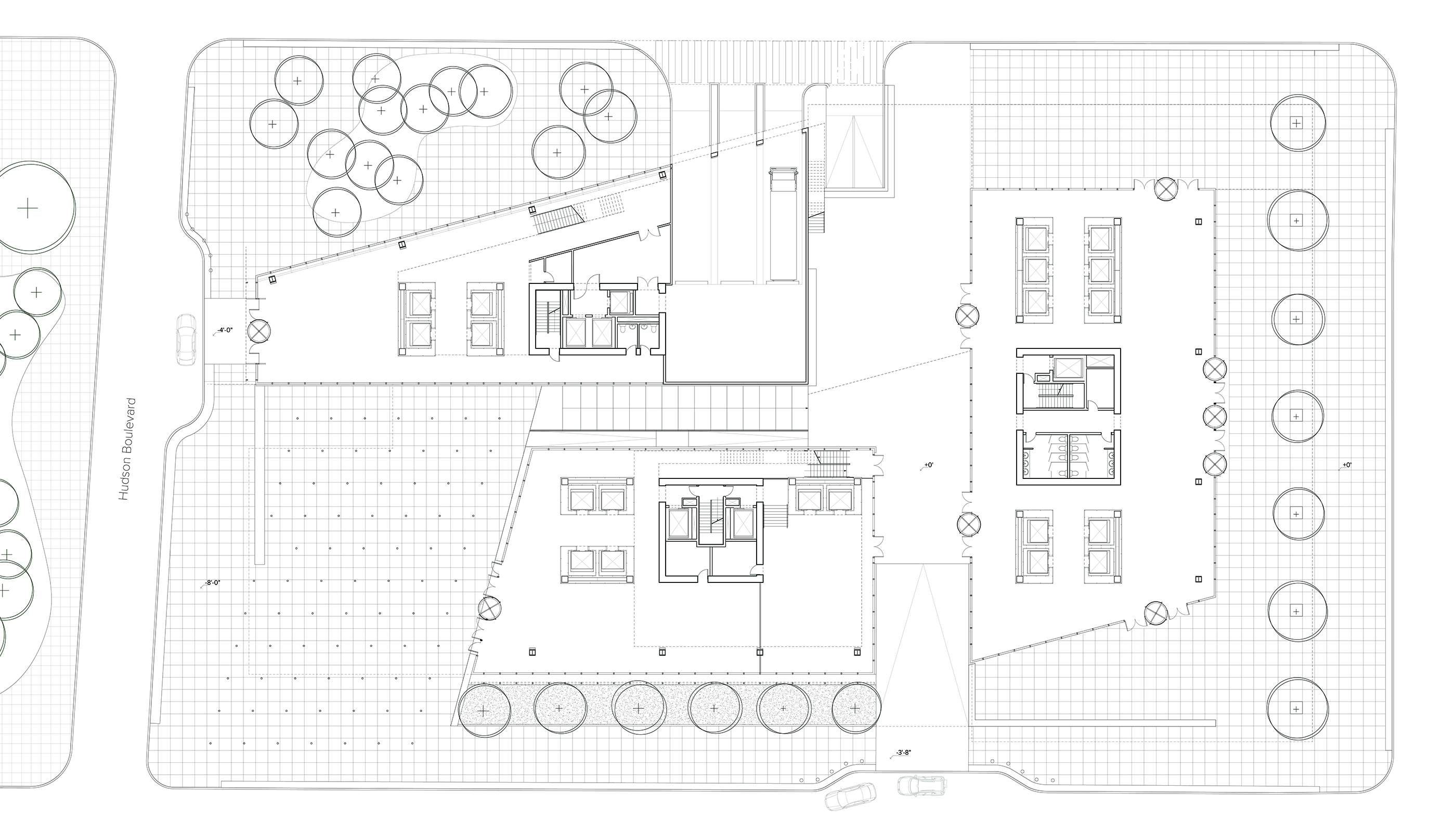 Ground Floor Plan
Gound Floor
The tower itself is upon its site as an autonomous sculpture, competing for a presence among the Manhattan skyline, like ground-level rainforest plants fighting for access to sunlight. The pedestrian at street level confronts a partially accessible and usually glass-enclosed plinth from the sidewalk to sidewalk.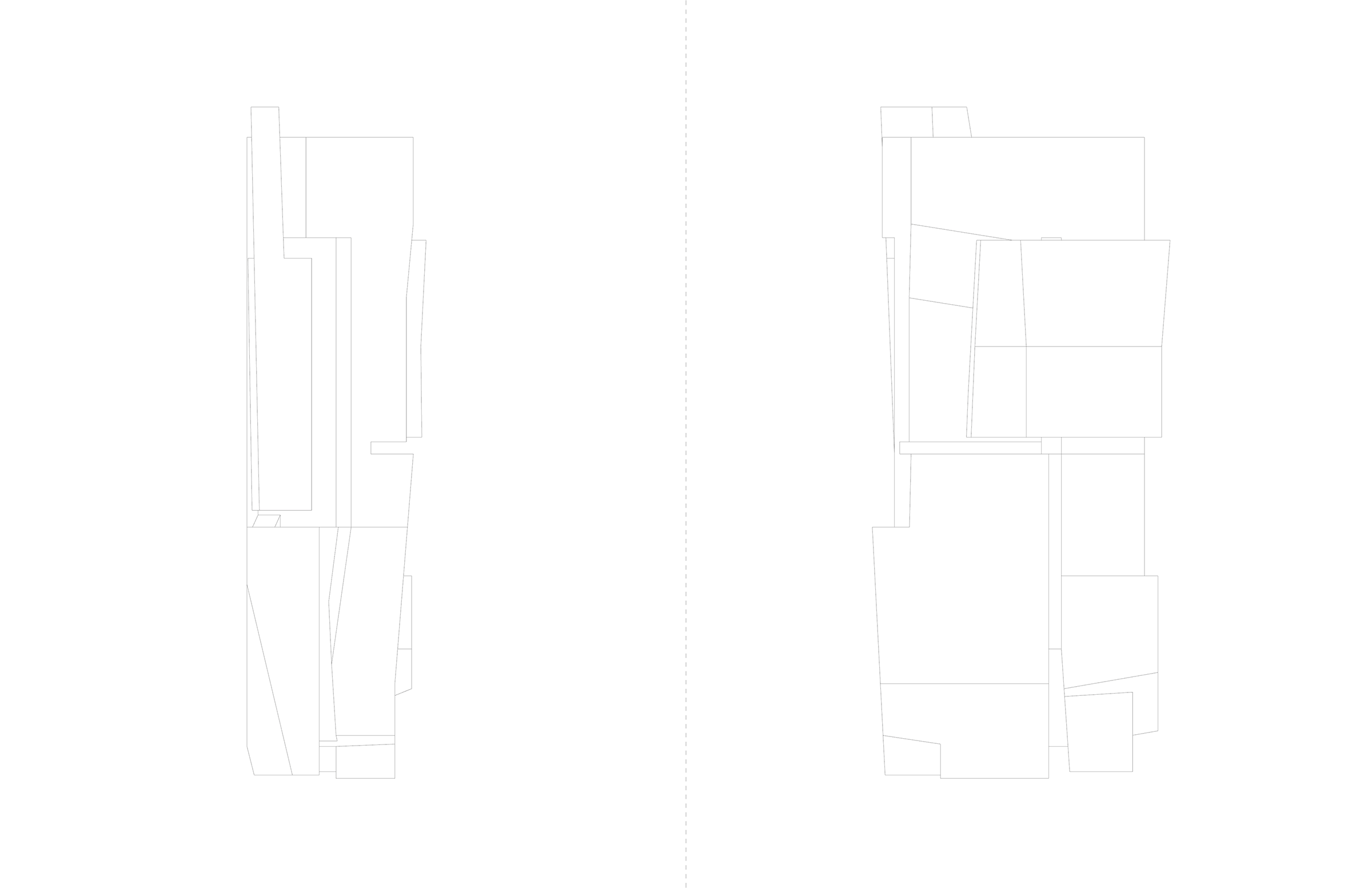 Section Change
Section
Onlookers only experience the middle exterior of a tower in neighboring buildings, and the top is experienced only at far distances.

The project challenges the layered trifle condition as a response to this condition presented by the towers type. The first investigation was programmatic – the primary reason for the tower's experiential separation.

Street View
Rather than having the offices, hotels, and residential units stacked on top of one another, the three programs sit above and beside. By having such an arrangement, spatial and programmatic relationships arise.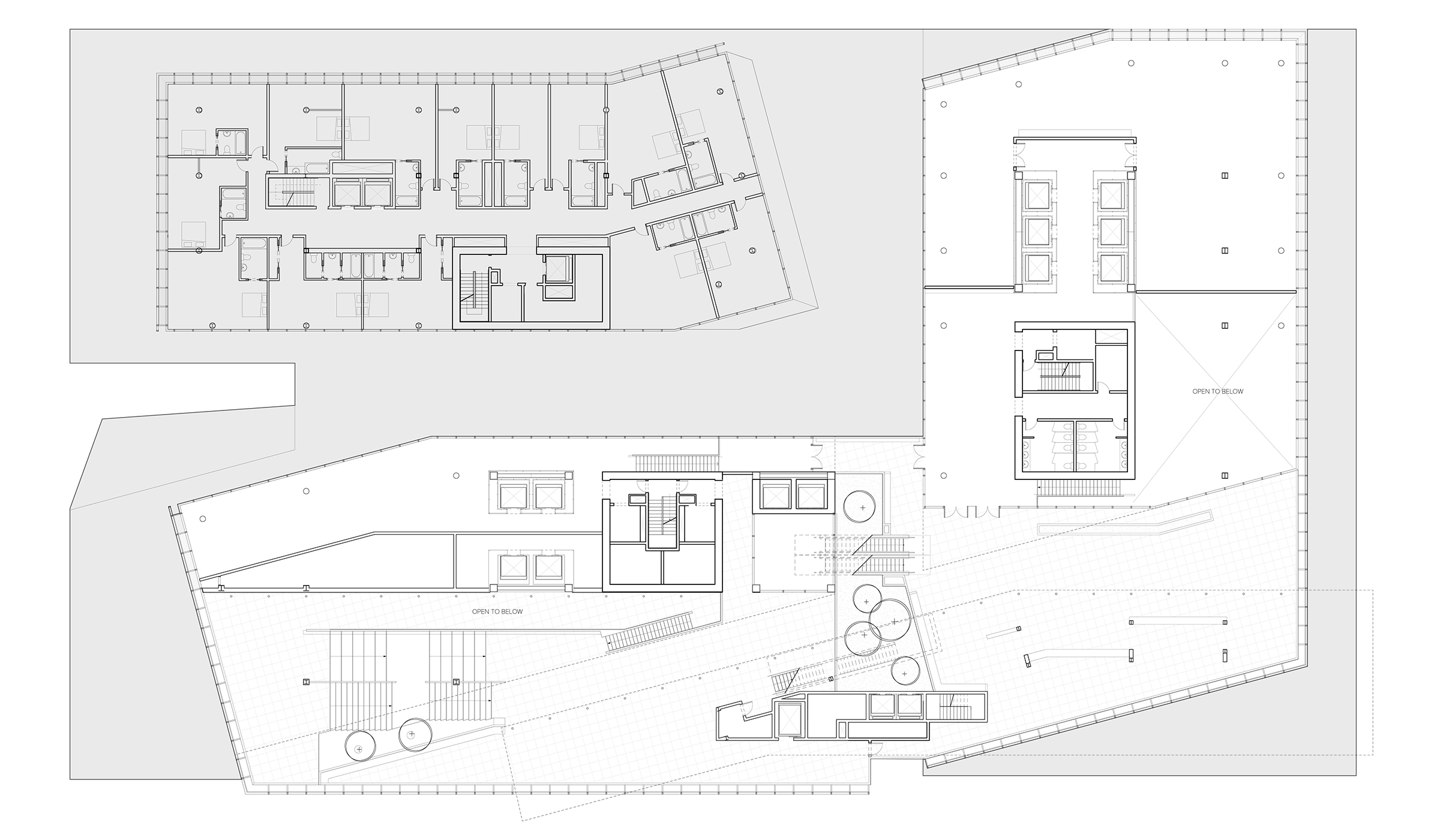 Transition Floor Plan
In-Between
The section is articulated by two main interstitial zones, bounded by two different program types - one between office and hotel and the other between the office and residential. These spaces allow architecture to be read simultaneously as a coherent whole and clusters of disparate individuals at multiple scales and offer new possibilities for social, visual, and programmatic interactions.

These interstitial spaces, which can initially be glimpsed as a break between programs with a different level of privacy, are opportunities for social and visual interaction. Although varying outdoor spaces serve specific programs and are separated by light-wells, they perform as connective tissues.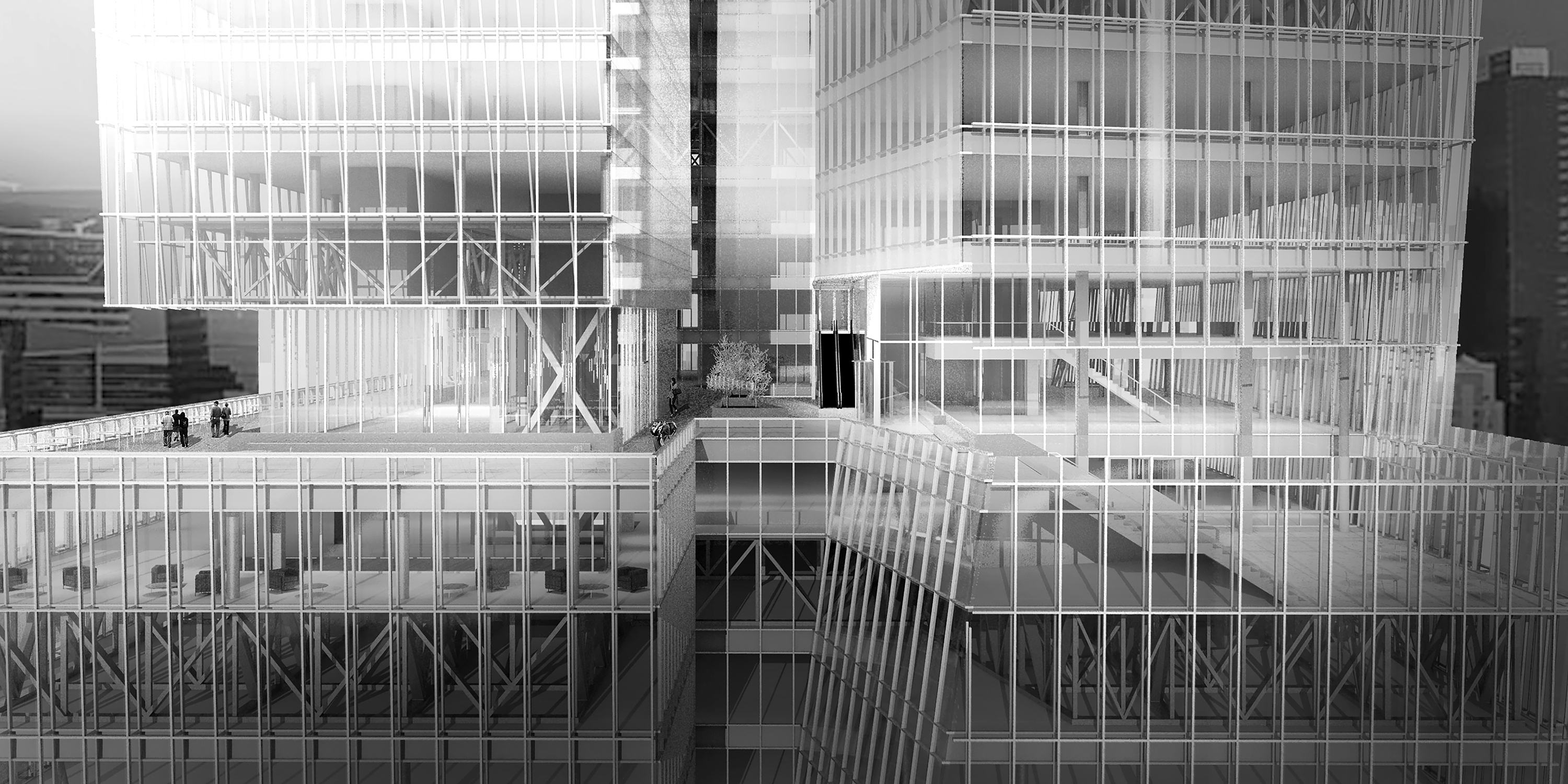 Hotel and Office
Model Photo
Transition Floor Plan
The tower's privilege and responsibility lie in its scale – structure and form have power and agency, unlike any other architectural typology. It is lost an opportunity, to say the least, not to explore the depths and extremities of form and structure that the tower can provide.

There exist two unitized facade systems. The first system, implemented on surfaces that bound the interstitial spaces, is a single-layered double glazed system with some being operable for natural ventilation. The facade utilizes a rigid-orthogonal grid in creating a pure expression of the interstitial.
Ventilation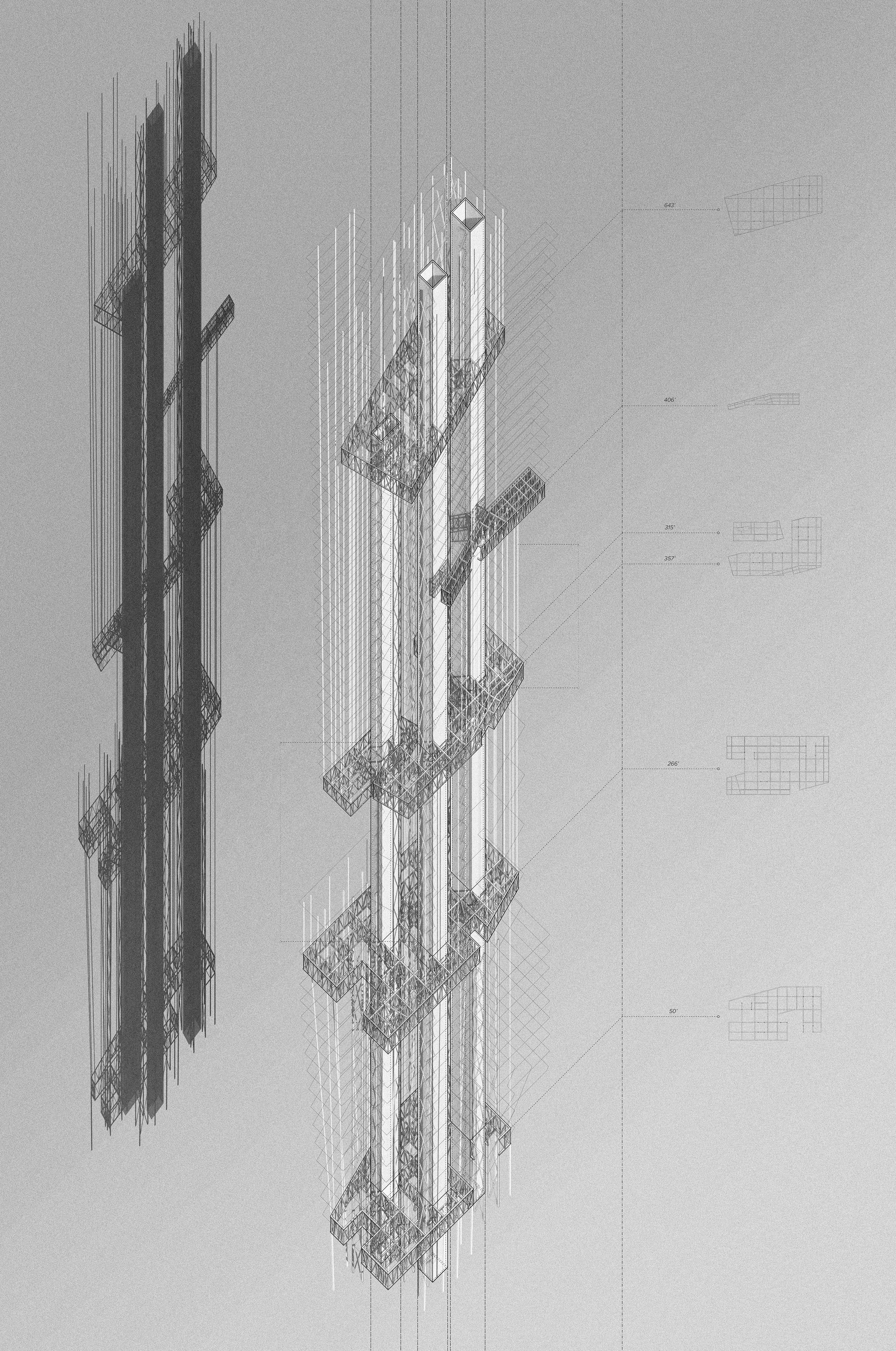 Structure Axonometric
Elevation
The second, which exists on the outer surfaces of the volume, is a double skin facade with its face supported by fins extending out from the inner structural mullions. The inner skin's organization uses the geometry inherent to each volume and is non-orthogonal, emphasizing the subtle yet autonomous qualities.
Facade Axonometric
The superimposition of the two grids gives a cohesive look from a distance and creates subtle textures that change as the architecture is experienced at different scales. In such an experience, architecture can be read simultaneously as a singular whole and three distinct individuals.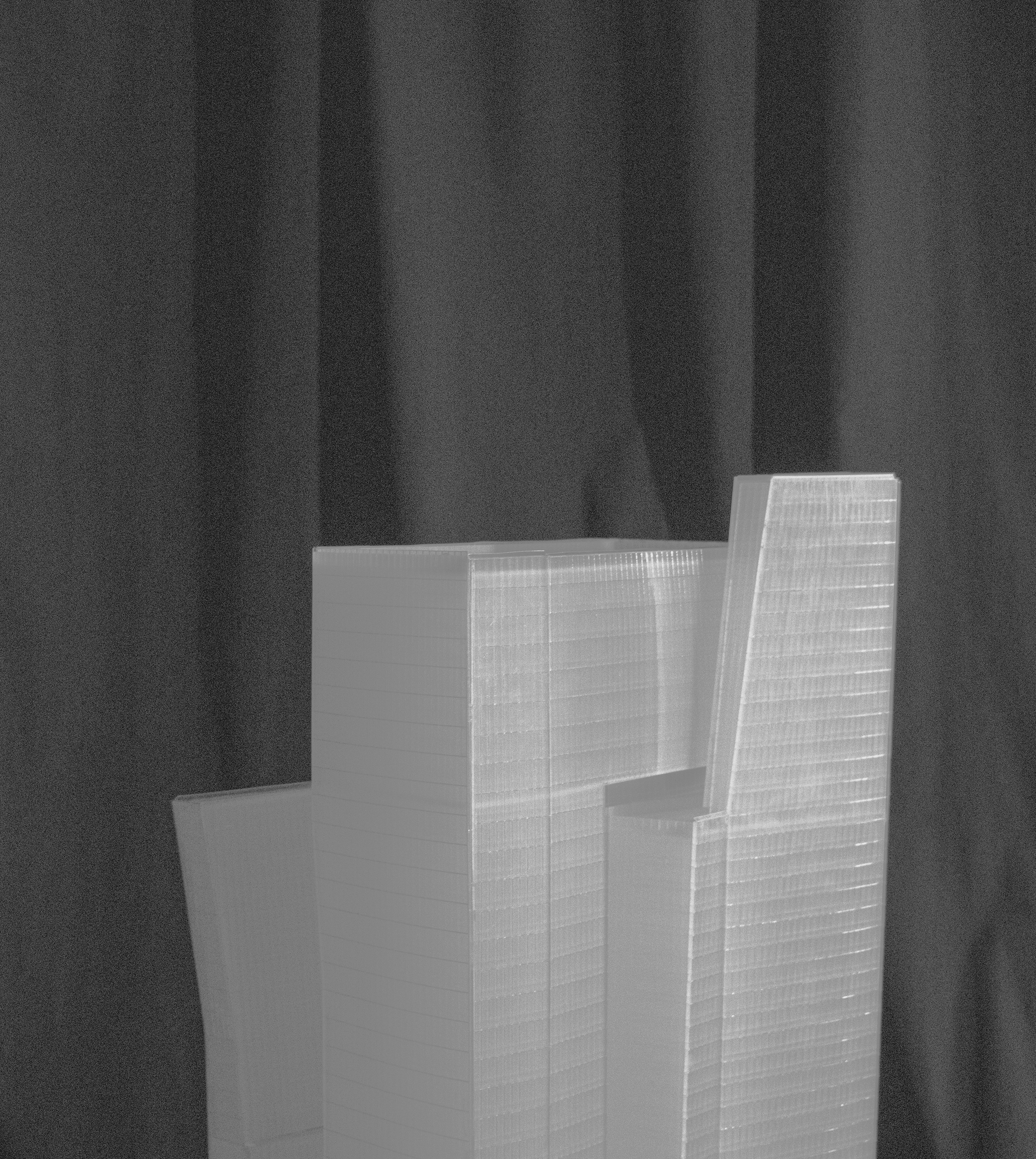 Model Photo